It is a great honor for acrosser's in-vehicle computer AIV-TGH7Ex has been recommended by COMPUTEX in this issue of the e-newsletter that is about an online matchmaking event organized by COMPUTEX.
If you are interested in this event, you can go to https://show.computex.biz/UploadFile/cyberworldnews_20220930.html
Or direct to quote on Acrosser's website: https://www.acrosser.com/en/Contact/Inquiry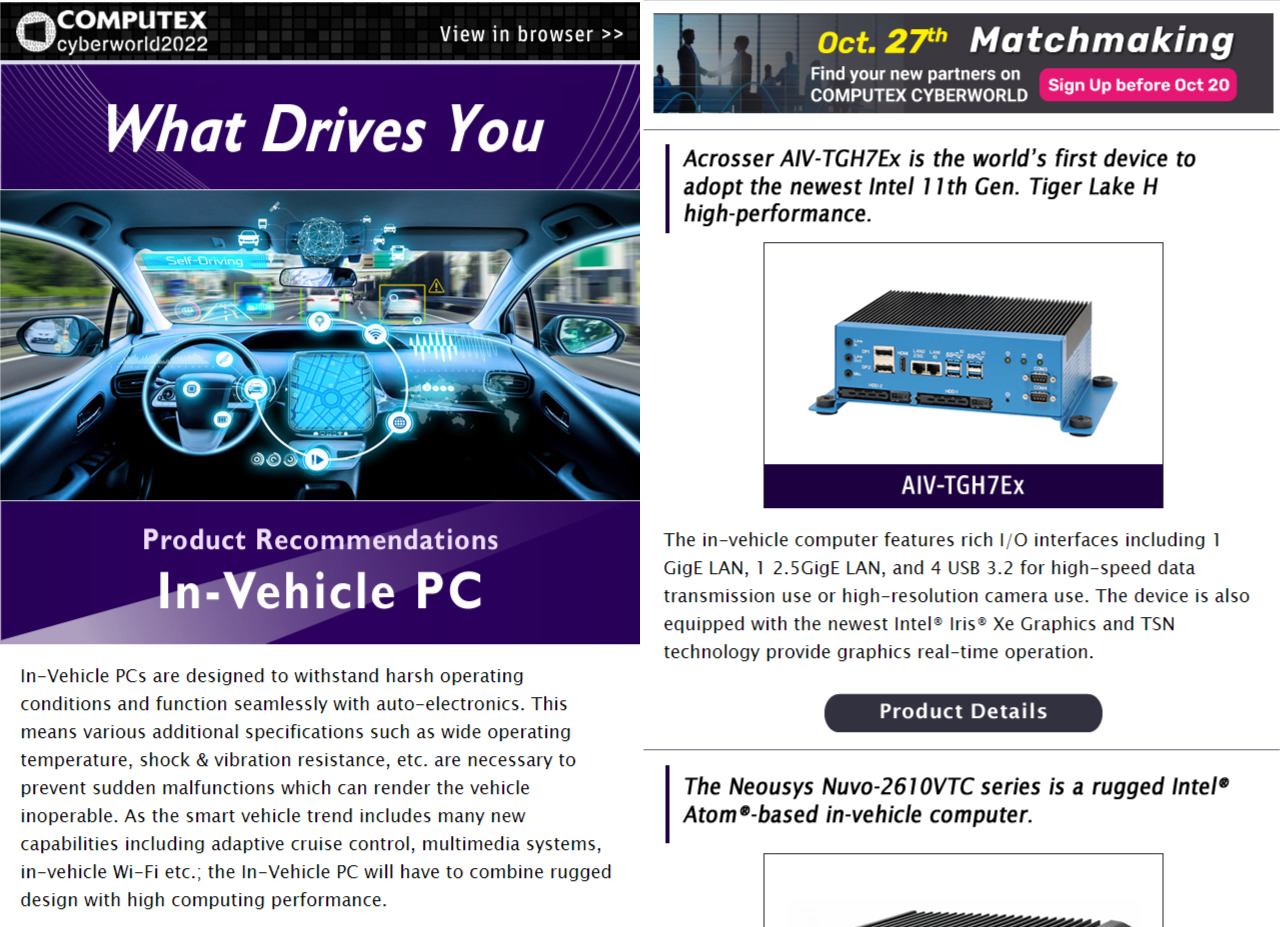 About AIV-TGH7EX:
1. Intel® 11th Generation Core™ i7/i5/i3 Processor
2. Support 1 DDR4 3200 SODIMM, up to 32GB
3. Support 2.5GbE, USB 3.2 Gen2
4. can bus provide
5. Two front easy access 2.5" SATA III storage bay
6. 9-32Vdc w/in-vehicle power ignition control
7. Fanless design
8. Wide Operating Temperature -40~70°C
Perfect for Edge and AI computing.

Acrosser is 100% committed to providing its OEM/ ODM/ JDM and end-user clientele with high-quality innovative in-vehicle computers,  networking appliances, and embedded computer solutions for shorter time-to-market and in achieving higher competence to win business opportunities in the marketplace. For more information, please visit: https://www.acrosser.com/en/Contact/Inquiry
In-Vehicle Computer , Car PC, Vehicle PC, Bus PC,, car pc solutions, in-vehicle system, rugged vehicle computer , In Cab Computer,
AIV-TGH7Ex
11th Gen Intel® CoreTM i7/i5/i3 Processor(Tiger Lake) Fanless In-Vehicle Computer AIV-TGH7EX
more>
In-Vehicle Computer , Car PC, Vehicle PC, Bus PC,, car pc solutions, in-vehicle system, rugged vehicle computer , In Cab Computer,